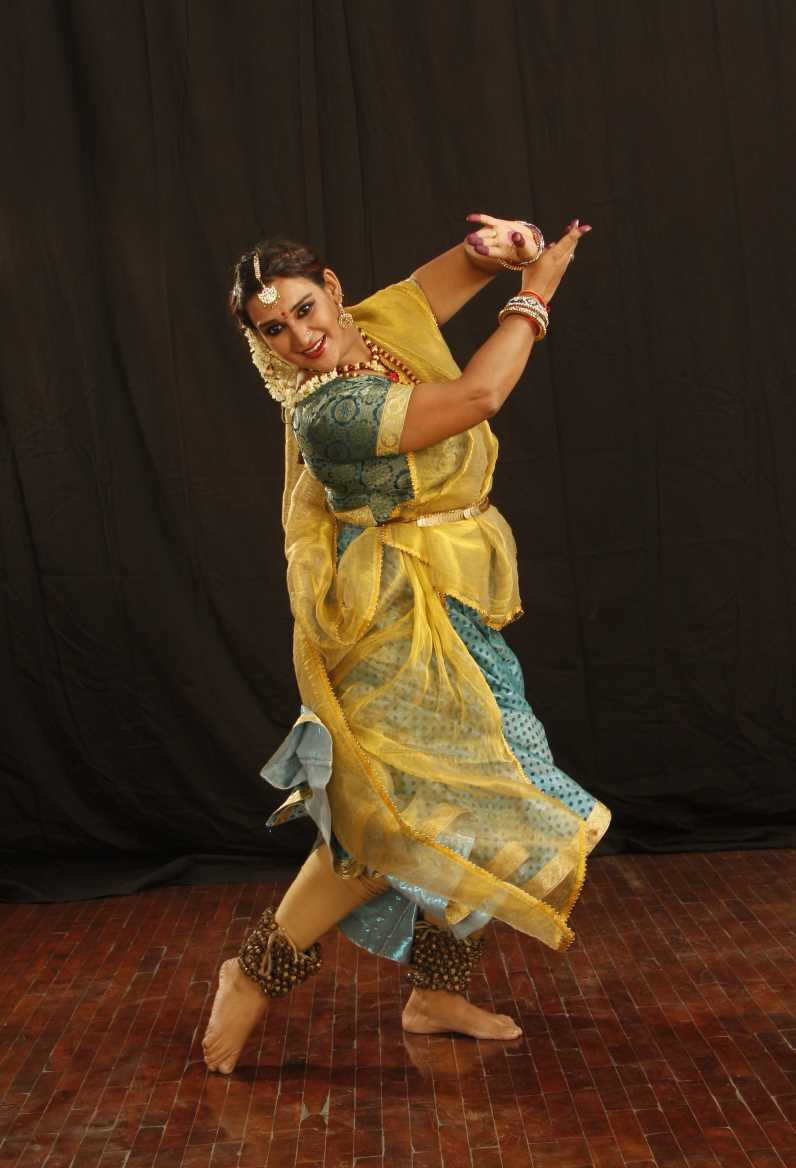 Sonali, is a Kathak artist who lives dance in her soul and this is superbly reflected in her performances, which never for a moment ceases to impress. She embarked on her training in Kathak from the tender age of 9 years under the guidance of Guru Gitanjali Lal and was later groomed by PanditRajendraGangani of the Jaipur Gharana. Kathak is her calling and she pursues it to perfection.
Exponent of the pure tradition of Bhava and Abhinaya.
Expert at stylizing poetry in dance form.
Innovates by creating own compositions drawing from the richness of art, literature, music and other dance forms.
Indian Council of Cultural Relations and Doordarshan approved artist.
AWARD
Dr. S. RADHAKRISHNAN MEMORIAL AWARD at Hindi Bhavan on 06.09.2010.
Conferred the title "NRITYANGNA SHREE" from Govt. of Uttar Pradesh.
"SAVITRI KALA SANGAM" Award for being a distinguished Kathak Dancer.
"PRESIDENT'S AWARD" for meritorious services in Girl Guiding.
Appreciation from Honest Club, Khurja.
"UTKRIST MAHILA AWARD" in 2009.
"GENERAL MANAGER'S AWARD" Northern Railway in 2009
"MINISTER OF RAILWAYS AWARD Northern railway 2011.
ASIA PACIFIC ADULT LEADER ACHIEVEMENT AWARD by WAGGGS
GLIMPSES
Acted in the lead role as Sinoo in the Tele Film "Allah Tere Naam" for DD1, a film Directed by Prafulla Mohanty.
Performed a Dance Drama as Sindhu Jawar based on the poetry of honourable Prime Minister Shri Atal Bihari Bajpayee at Delhi Shri Ram Centre and at Lucknow (Umanath Bali Auditorium).
Worked in documentary movies like "Shahjahanbad" by Archeological Survey of India, "The Mughals", "Durga" A CPC Production, "Parshuram" & "Shiv Stuti" for Doordarshan Delhi, "Dastak'' on DD1 and a movie on Classical Dance of India.
Worked in Doordarshan Programme on Deepawali.
Compere Youth Programmes for Doordarshan.
Worked in documentary movie "Tajmahal-The Jewel of India Discovery" Produced & Directed by Suzanne Duroux & Barry Stoner
BEYOND THE OCEANS
Played a key role with the Cultural delegation to Guanczhou Grand World scenic park, China in an International Art Festival.
Given shows in Thailand and received great applause.
Performed in Italy, Germany, Austria, Switzerland and Amsterdam also.
STAGE EXTRAVAGANZA
Choreographed "Aao Phir Se Diya Jalayen" on the compositions of honorable Prime Minister Shri Atal Bihari Va jpayee and performed before time at National Bal Bhavan on the eve of children's day.
Participated in major festivals of India namely, Haridas Sangeet Smiriti Sammelan (Vrindavan). Surya festival (Trivandrum), Dussehra Festival (Mysore). Spirits of unity concert ( Puttaparti, 69th Birthday of Sai Baba), Gandhi Jayanti Samaroh (Delhi), Mahavir Jayanti (Bharatpur) 6th Red & White Bravery Awards, Miss India contest (Bombay), Nations March at Vijay chowk on 14th August 1997, Republic Day (Habitat Centre, Delhi, in a composition Rudra Bharata Bharatam) on 26th January 1999, Pimpri Chinchwad Mahotsav (Pune) on occasion of Ganesh Chaturthi. Apart from this, she has performed on other important occasions at Lucknow, Kanpur, Patna, Sonepat, Panipat, Meerut, Sundernagar, Jalandhar, Chamba, Ludhiana, Jaipur, Jodhpur, Ganganagar, Bombay, Chittor, Hyderabad, Quilon, Madras, Bulandshehar, Khajuraho and very frequently in Delhi.
She has done some fusions of Kathak with Bharatnatyam.
Taken Dance Workshop at Hazari Bagh (Jharkhand) and Teliamura, Tripura and at Salogara (H.P.).
She has choreographed Rajya Stariya Karyakram to celebrate Republic Day on 25th January 2008 at Ajmer presided by Chief Guest Rajasthan Governor and Chief Minister.
Choreographed Baba Ramdev Light and Sound Programme -2008 at "Ravan Ka Chabutary Maidan" by Government of Rajasthan.
Choreographed Ramleela at Jodhpur Rly. Stadium.
Choreographed Independence Day Karyakram conducted by Tourism Department at Bikaner on 14th August 2008.
Performed in Anant Yatra at Kamani Auditorium on 1st April 2009.
Performed at Gandhi Memorial Hall by Timeless Mahatma Trust.
Performed in "Safety Samaroh" at National Rail Museum.
Given performance in "South Asian Friendship Meet" at State Entry Club on 5th May 2010.
Performed at on the eve of 100 years of Scouting at NRM 20th June 2010.
Performed at Dayabasti R.P.F ground for samagam in feb 2011.
Performed at Bal Divas organized by NRWWO on November 2010.
Performed at National Rail Museum on the eve of Mahila divas 2011.
Performed at Naggar(manali) for Basantutsav organised by lalit kala Akademy.2011
Performed at kamani auditorium organised by lakshita foundation 2011.
Anchored the programme at Vigyan Bhawan on E-Budget dated 14th December 2013 where Honourable Ms. Deepa Das Munshi was the chief guest.
Performed at Indian Habitat Cenntre on 3rd March 2015 pride of uniform inspiring lives, organized by National Institution of gender justice. Actress Rani Mukherjeee was felicitated with Nirbhaya Award.
Compered the programme on 1st May 2015 at S.P. Marg Club, in which honourable Minister Railway Sh. Suresh Prabhu was the chief guest.
Anchored the programme Incredible Madhya Pradhya Pradesh at Asoka Convention Centre by M.P. tourism on 15th May 2015. Honourable chief minister sh. Shivraj Singh Chauhan was chief guest.
Anchored the programme at National Rail Museum "Creating the better lives, Grand campfire" on 1st July 2015.
Anchored the programme on International Yoga Divas, Prachar & Prashhar inwhich Hon'ble Minister, Shri Shripad Naik, Minister for Ayush was the chief guest on 10th July 2015.